UV EQUIPMENT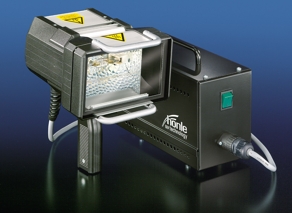 UVAHAND 250
UVAHAND 100 - 100W / UVAHAND 250 - 250W

- Hand-held unit in modular design for mobile and stationary use
- GS mark - approved safety label
- Mains supply 230 V
- Uniform intensity distribution
- Different emission spectra by means of lamp-/filter-c
제품상세설명

UVAHAND 250 ? mobility and high intensity
UVAHAND 250 is a high-intensity handheld UV lamp.
It is easy to transport, ergonomically designed and ideal for mobile use.
Its high power output and intensive radiation ensure reliable production results within seconds.
A homogeneous intensity distribution is guaranteed by its optimised reflector surface.
Flexible applications

UVAHAND 250 can easily be adapted for very different applications.
The standard version is supplied with a metal halide lamp and UVA spectrum (filter H1).
With these features, UVAHAND 250 is especially appropriate for curing of UV reactive
adhesives and compounds.
The UVAHAND 250 BL version is equipped with a black light filter which transmits only UVA radiation. Visible light is filtered out to a large extent. Its high UV output guarantees reliable results in fluorescent testing even without blackout conditions.

Fields of application

- curing of UV reactive adhesives when joining glass, plastics and metals
- curing of UV reactive compounds on electrical and electronic components
- production and repair of plastic parts with UV curing polyester resins
- fluorescent testing for quality control purposes in mechanical engineering, aircraft, textile and printing industry
- particle control in clean rooms
- authenticity testing
Practical and safe

An hour counter is integrated in the ballast box for operational monitoring and control over lamp life.
Spacers at the output window prevent the hand lamp from overheating when the lamp unit is deposited.
Hence they guarantee not only a high degree of safety, but also a longevity of the hand lamp which is even increased by the resisitivity of the lamp housing.
High-strength aluminium and polycarbonate lamp housing make UVAHAND 250 a very durable product. A strong carry case is available for safe transportation.